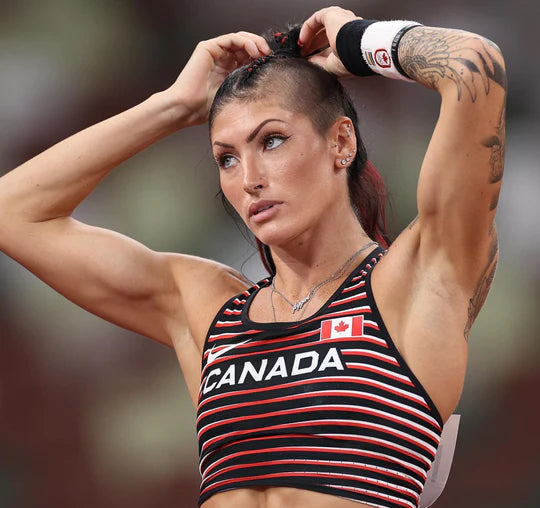 Anicka Newell
Canadian Olympic Pole Vaulter
Anicka is a Canadian/American world-renowned track and field athlete. Anicka (aka "Fly Girl") has been competing and representing Canada in the Olympics as a Pole Vaulter since 2016 and has achieved enormous success and results. Anicka was born in 1993 and currently lives in Texas. Anicka grew up in the US, but always felt close ties to Canada and Saskatoon where her grandmother lived.

Anicka started pole vaulting at the age of 16 (in high school) and was instantly successful, leveraging her natural athleticism, gymnastics background and love of "flying". Newell won a state individual title for Pole vault in New Mexico (2009-Albuquerque New Mexico) and then moved to compete collegiately for Texas State University. In 2015, Anicka won the Sun Belt Conference pole vault title for a second straight year, setting the conference record at 4.28m, and made the NCAA Championships for the second time. In addition, Newell earned an honorable mention at the "All American" awards for pole vault (2015 NCAA Division/Outdoor Track and Field Championships).

In 2016, Anicka was officially named to Canada's Olympic Team, placing 29th at the 2016 Summer Olympics in Rio and clearing 4.15m (13ft 7 in). Newell continued to push the bar, reaching 4.65m in June 2017 in San Marcos Texas – making "Fly Girl" the second highest Canadian athlete of all time. She competed in the 2017 World Championships clearing 4.45 meters (14 feet 7 inches) and placing 12th in women's pole vault.

Anicka's success continued into 2018. In early 2018, Newell finished seventh at the Commonwealth Games in Gold Coast, Australia. She went on to win her first national title. She later competed at the Canadian Athletics Championships, clearing 14 feet 7 inches and taking first place. Anicka's 2018 success led to her qualifying for the 2018 NACAC Championships (Toronto Aug 2018). In January 2021, "Fly Girl" set a new indoor personal best of 4.70m at a meet in Belton Texas. Outdoors, she recorded a season-high 4.60m. In her second Olympic appearance at Tokyo 2020, she advanced to the 15-woman final but missed her three attempts at the opening height of 4.50m.

Anicka spends time training between Texas and Canada and her regular training regime focuses on pole practices, weight training, strength training and other exercises to bring her "A" game. Anicka has been using Heali Tape Pro to help with easing the pain from a foot injury and to help with stability as well as to promote faster recovery so she can train and compete at her best.