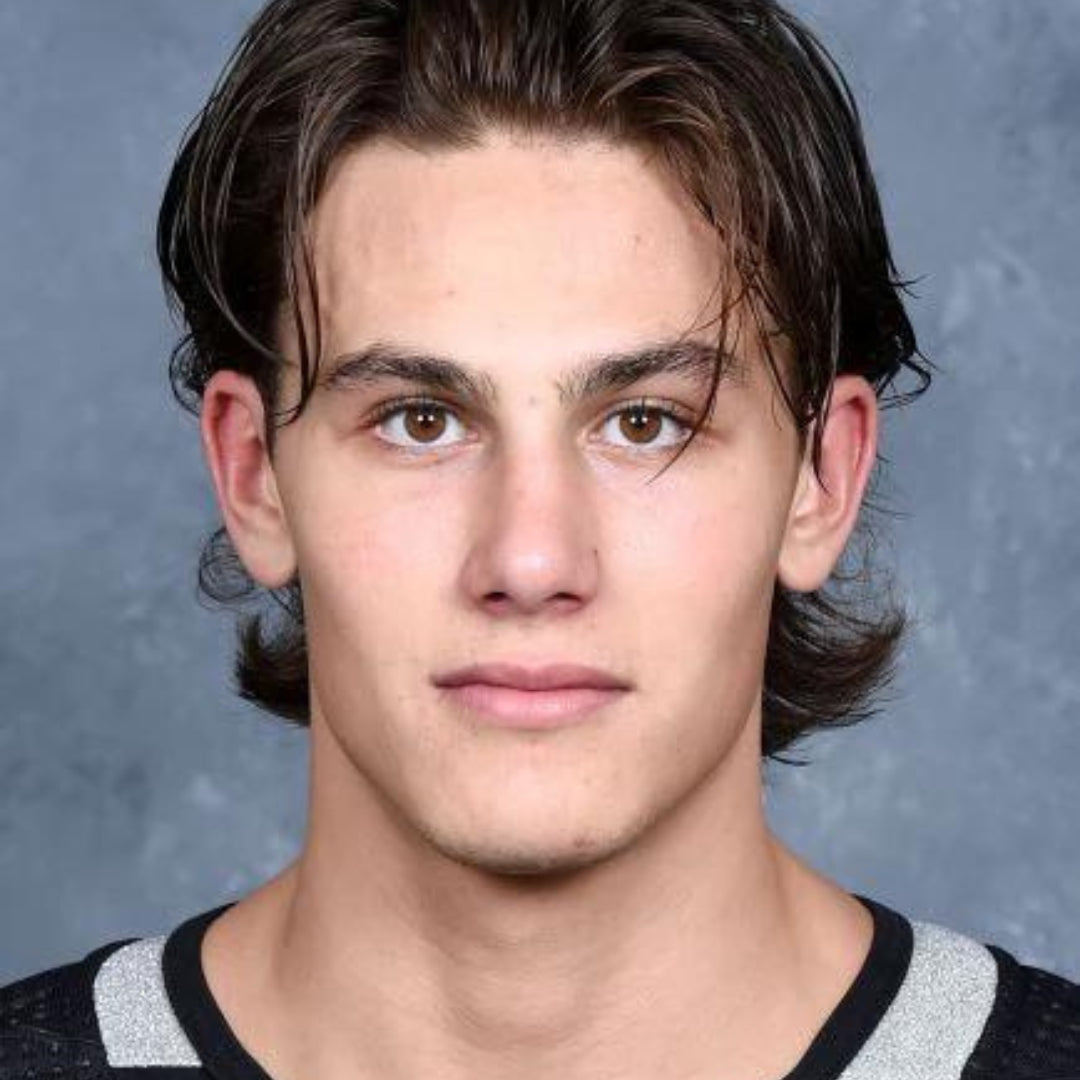 Francesco Pinelli
LA Kings (NHL) 2021 Draft Pick: 42nd Overall
Francesco Pinelli has been playing hockey since his childhood and his passion, dedication, focus and fabulous hockey skills has recently landed him a spot with the Los Angeles Kings. Francesco was born in 2003 in Hamilton Ontario Canada. Francesco most commonly plays centre, shoots left and is listed at 6"1 and 185 pounds.

At the age of 9, Francesco played for Toronto Pro Hockey in the Brick Invitational League. In 2015/16 for Belle Tire and moved up to in the AAA for the Toronto Red Wings for the 2018/2019 season.

In 2019/20 Francesco progressed to the OHL and played for the Kitchener Rangers. Throughout his rookie season, Francesco also played for one of Canada's teams at the world Hockey Challenge – an international U-17 tournament. Francesco had a fantastic rookie season, finishing fourth in the entire OHL with 18 goals, 23 assist and 41 points in 59 games. Throughout this season his stats reflected five power play goals, 122 shots on net and 104 faceoff attempts.

For the 2020/21 OHL season – Francesco was chosen to play a more pivotal role for his draft year for the Kitchener Rangers but due to the pandemic hockey in Ontario/Canada was forced to put on the brakes and pause the season. To continue playing, Francesco was loaned out to a European team and Jan 2021 and started playing with HDD Jesenice in Slovenia competing in the Alps hockey League with teams mostly based in Austria, Italy and Slovenia. Francesco got on the board in just his second game overseas, scoring a beautiful game-winning goal in the dying seconds. Francesco played in 13 games and put up five goals and six assists in addition to playing in additional 2 play off games and scoring another goal helping to secure the championship in Jesenice.

In Spring 2021 – Francesco was selected by Hockey Canada to represent Canada and play in the under 18 Championship in Frisco Texas. Canada won the tournament. Francesco finished 3rd(tied) on the team for points with teammates McTavish. Francesco put up four goals and seven assists in those eleven games a fantastic result.

Francesco has often been referred to as a highly intelligent player who often outsmarts his opponents. He has been complimented for his skating skills, long shots and is known as a "smart player with great vision and slick hands". As a playmaker – Francesco is able to find the open ice for both himself and his teammates and will be a valuable asset in the NHL.

From these amazing accomplishments, Francesco gained the necessary attention from the NHL and was successfully drafted in the 2nd round as the 42nd pick Overall to the Los Angeles Kings – an incredible accomplishment!

Francesco has worn Heali tape to help with support and prevention and faster recovery from overworked muscles. Since training camp for the Los Angeles Kings has started – Francesco has enjoyed all the new training experiences such as battle drills, battle along the walls, picking up pucks and scoring. He is continuously focusing on building strength and improving his speed and has been busy training in the gym when he's not perfecting his skills on the ice. Francesco is a dedicated hockey player always working on himself to improve his skill set to get him to the next level.