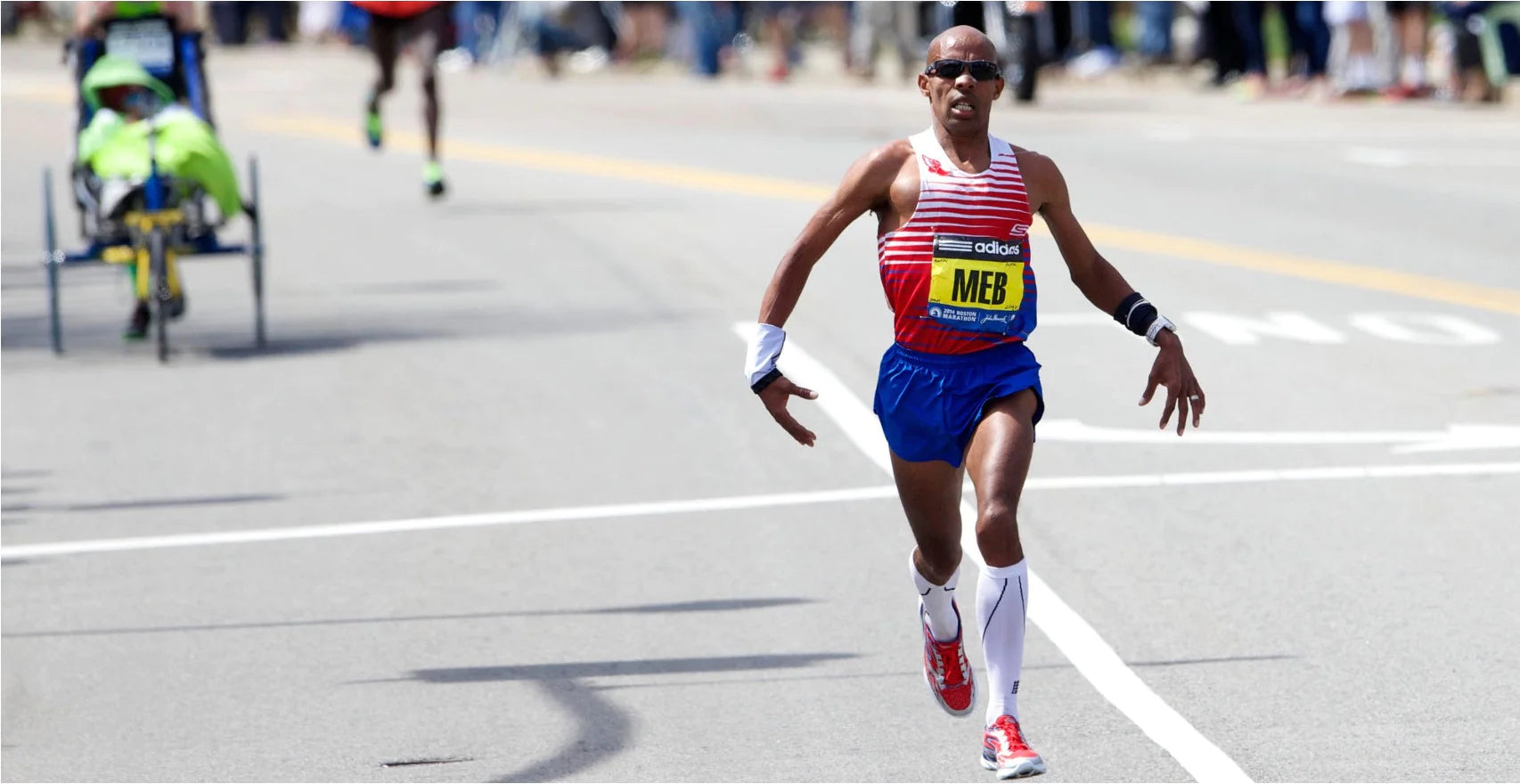 Meb Keflezighi
4x Olympian
Olympic Marathon Medalist
Meb Keflezighi retired as America's premiere marathon runner upon the completion of his 26th competitive marathon in 2017. Runner's World Magazine named Meb "The Most Influential Person in Running" noting that his "universal appeal only begins with his racing." The 2014 Boston Marathon champion and 2014 USA Track & Field Male Athlete of Year participated in 4 Olympic Games and 3 World Championships, while also accumulating 23 USA Track & Field individual titles. In February 2016, Meb qualified for his 4th Olympic Games and became the oldest marathon runner in American Olympic history at the time. Meb is the first person to have won the New York City Marathon, the Boston Marathon, and an Olympic marathon medal.

Meb witnessed the ravages of conflict at an early age while also enduring famine and drought. When Meb was only five years old, his father made the courageous decision to leave their native Eritrea in search of a better future for his family abroad. Meb's mother had the foresight and wisdom to support this choice. Five years later, with the help of a generous Italian benefactor, the entire Keflezighi family immigrated first to Italy and then subsequently to the United States – the land of opportunity.

Meb received an athletic scholarship to UCLA earning a Communication degree with a Business specialization. Meb's collegiate experience formed the framework for his future charitable entity, The MEB Foundation (Maintaining Excellent Balance). Meb is not the only Keflezighi sibling to enjoy academic success. Nine of his siblings have earned bachelor degrees at institutions such as Cal-Berkeley, Stanford, UCLA, and San Diego State. They are doctors, lawyers, MBA's, educators, and engineers. They are the American Dream.

Meb is a husband, father, best-selling author, and highly sought-after speaker. Meb has appeared in television commercials for Skechers, Sony, MasterCard, and Citibank; in 2014 he was nominated for Sports Illustrated Sportsman of the Year; in 2017 he was honored by the United States Citizen and Immigration Services with the "Outstanding American by Choice" award; he has also been awarded the Abebe Bekila Award by the New York Road Runner's and the Patriot's Award from the B.A.A.; and the UCLA alumni award for Outstanding Professional Achievement. Throughout his life, Meb has overcome extraordinary barriers and continuously emerged a champion. His themes of perseverance, discipline, graciousness, inclusiveness, teamwork, support, and acceptance resonate with all audiences. His personable and approachable nature relate to all ages and backgrounds. Most importantly, Meb embraces the honor of being called a role model and being called to serve as an ambassador of sport. He draws energy and inspiration from his public interactions and believes that his life story and message can change lives for the better. Today, Meb lives in Tampa with his wife Yordanos and his three daughters. He can often be seen driving from one youth soccer practice to another, while also remaining active in the sport as an Ambassador.